Introducing Scuba Evolve : Combine diving courses and save money!
---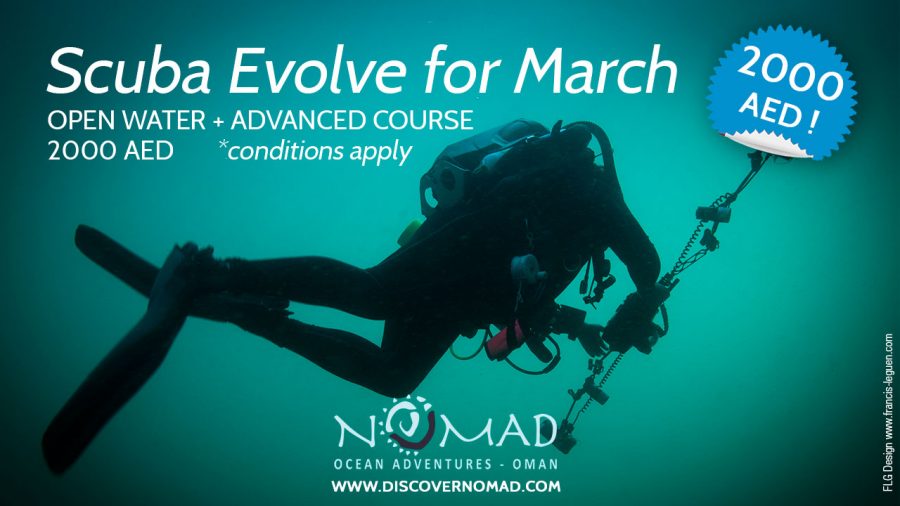 Let's face it, diving isn't the cheapest hobby in the world. From the equipment to the travel and diving fees, it's easy for costs to mount up. But after running a diving business for 15 years, I believe the biggest financial investment is new courses.
There's so many cool courses for people to take, which help them learn new skills, develop their technique and have a great time. However, not everyone is ready for the financial outlay. Whether it's Advanced Open Water or a specialism like deep diving or photography, I've seen so many divers get excited when I tell them about a new course- until they find out the price.
That's why Nomad is launching a new concept: Scuba Evolve. It's basically a series of offers that will change every month, where divers can combine more than one course and get massive discounts.
For the first month, we'll be combining our two most popular courses, Open Water (AED 1800) and Advanced Open Water (AED 1700). During March you can buy both courses for just AED 2000, saving AED 1500.
If you've already had a go at diving with a Try Dive, it's a great opportunity to get certified. By the end of the course you'll be a trained diver ready to discover the ocean. You'll be able to dive in waters up to 30m deep, gain great control over your buoyancy, learn how to navigate, and much more.
If you're already a certified diver and you have a partner or friend who is keen to give it a go, this dual course would make a great gift. In just a couple of months, you could be discovering the underwater world together.
If you have any questions or would like to find out more about the terms and conditions, please give us a call.
Happy diving!