$1000 Usd Padi IDC in Oman
---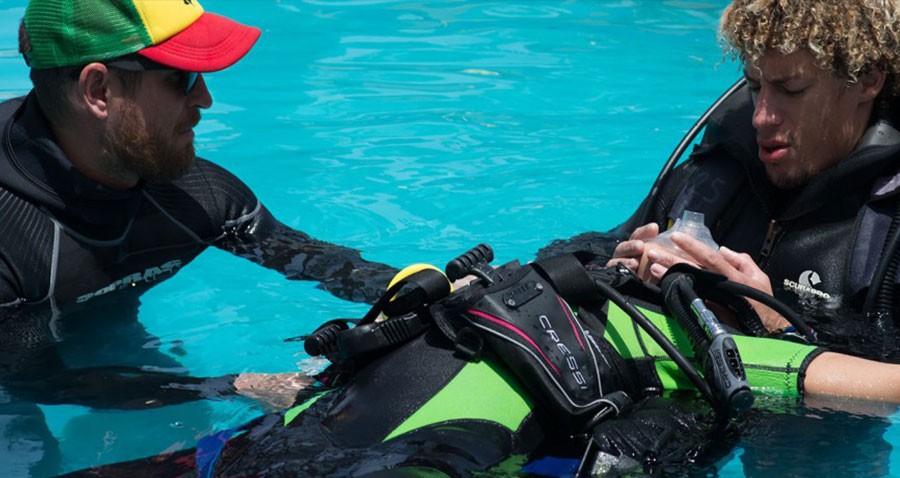 Christophe Chellapermal

"Some people can spend their whole life looking for a purpose or a calling. We easily get caught in an educational spiral and jump on the wagon of life. We get day jobs and quickly forget to simply live.

It is so easy to loose ourselves and we are sometimes incapable of taking a few steps back and enjoying the quintessential life. I'm lucky I grew up in the UAE and spent my whole childhood enjoying the awesome wilderness and weather here. We would go camping in the desert dunes or in remote beaches spending the weekend diving with friends.

I quickly realized what it was I wanted in life or rather what I didn't want. Being stuck behind a desk with a tie and suit was not for me. Diving in that sense has given me that freedom. Not only do I find inner peace when I'm out diving it is a passion I enjoy sharing and transmitting to others".
Until now Dive Centers in the Middle East had offers that didn't compete globally and divers would seek alternative destinations to follow their dreams and professional development.
Well we have brought this dream here at Nomad ! In a region that is relatively close to Europe with easy flights and safe surroundings, you can come and find out how I have shaped a dream from an idea into becoming a successful dive center owner with various branches.
At Nomad our IDC's include all you need from A to Z. They include accommodation in shared rooms or you can upgrade to more comfortable and personal room. Accommodation is located on the dive center so you don't need to travel or grab a car to go to your classes. We are well known for our good food you can focus on your training with a full stomach and not worry about a thing apart from your success. We will even organize your laundry and even your airport transfers.
We work with Course Directors from around the world and can offer IDC's in Arabic, English and in French. Each Course Director has a dedicated classroom so we can run multiple IDC's simultaneously.
If you feel that you want a more expanded experience in pro development we have a wide selection of internships that can give you hands on experience and an insight into the functions of a dive center. Not only can you increase your certification numbers but you can also build your skills as an instructor so you are ready to teach anywhere in the world. Here we are lucky to have one of the most central airports in the world : Dubaï.
We make your diving dreams become a wet reality.

Our Go Pro Courses start at just $1000 USD. Contact us and find out more on our Internships and Go Pro Courses.
Christophe Chellapermal
phil@discovernomad.com          info@discovernomad.com          www.discovernomad.com